(*Honnertzwanzeg Sekonnen - 120 seconds – presents essential information concerning packaging and can be read in under 2 minutes. The content will be focusing on news concerning packaging that are relevant to you as a member of Valorlux.)
In our last edition, we informed you about certain legal developments relating to the draft law on packaging and packaging waste. This time, we would like to draw your attention to Article 9 of the draw law on waste. 
This article stipulates that from January 2025, single-use containers, trays, plates and cutlery used within the context of a takeaway or home delivery service must be reusable and will be subject to the "take-back" obligation. If you distribute this type of packaging, you will have two options by 2025:
offer your own reusable packaging solution

adhere to an existing mutual and solidary solution.
In order to help you comply with these new legal provisions and obligations regarding reusable packaging and to avoid having to embark on the development of your own reusable packaging solution, Valorlux is launching a pilot project for its members that will initially target reusable cups.
Project overview
Valorlux's ambition is to set up a fully digitalized reusable cup system whose logistics (distribution, collection, cleaning, redistribution) will be entirely managed by Valorlux - thus minimizing the impact on your internal processes and daily tasks.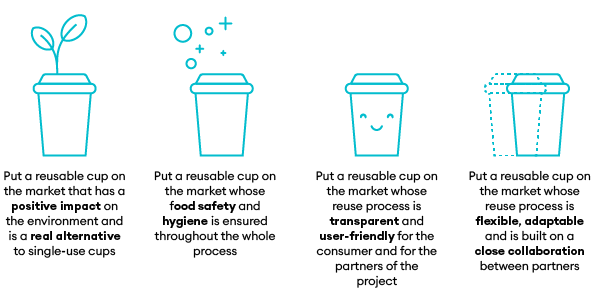 Pilot project
In this context, Valorlux is looking for innovative partners willing to help us develop, test and ultimately improve the system so it can be expanded in the future.
Costs for our members 
the costs of the pilot project will be borne by Valorlux
Timing 
Functioning

Your involvement in this process
Before handing over the drink to the consumer (point 3 of the above process), a QR code that is placed on the cup as well as the QR code identifying the consumer will need to be scanned. This process will link the cup to the consumer, allowing the digital deposit to be triggered.   
Valorlux puts collection containers at your disposal (point 6 of the process above), which can be set up at your premises/terrace if your point of sale is suited for it. The scan of the QR code by the consumer at the collection containers, which will be accessible at points of sale and/or in public spaces, releases the deposit.
Your advantages as a partner of the collective system:
Affiliation to the Valorlux reusable cup system may be indicated on the roadmap, which each packaging officer/manager must present to the Environmental Administration no later than 1st January 2024 and which will illustrate how they plan on deploying reusable products at their points of sale (reduction of your administrative burden).
Valorlux manages the legal reporting obligations of the partners - no reporting/declaration required from participating partners concerning the distribution of reusable cups and their rotations (reduction of your administrative burden).
Digital deposit – no exchange of physical money necessary and therefore no clearing necessary for your point of sale (reduction of your administrative burden).
Operational management and technological monitoring handled by Valorlux.
Logistics (collection, washing, redistribution of cups) organized by Valorlux.
Public communication and awareness campaigns financed by Valorlux.
Presence of your participating points of sale in consumer oriented communication.

Your Valorlux team

Useful links :