Individuals
Sorting makes it so easy to preserve our environment
Why take part in sorting and recycling?
Civil obligation to recycle packaging waste
As a citizen, I have a responsibility and obligation to recycle plastic, metal packaging, beverage cartons, glass, paper / cardboard
 
Contribute to sustainable development
Recycling and recovering most of the waste by giving a second life to packaging and reducing the production of waste by avoiding unnecessary packaging
 
Environmental responsibility
To be an economically, environmentally and socially responsible citizen and preserve nature and the planet for our children.
Don't miss the collection of the blue bag!
New Valorlux Web App now available!
Add the Collection Calendar app to your phone! Your reminder to take out your blue bags and never miss the collection of your street!
Activate geolocation: the calendar according to your position
Activate notifications: receive a reminder the day before
Add the collection calendar to your agenda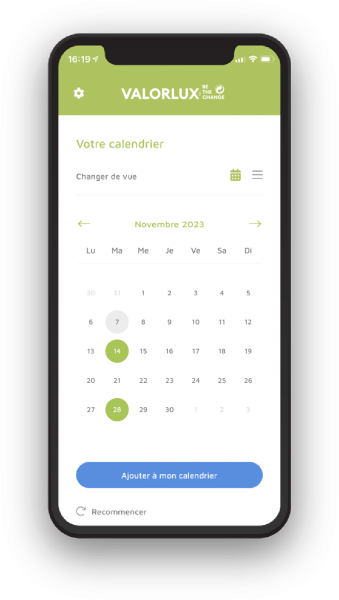 What can you put in the blue bag? The sorting guide
The quality of the recycling of packaging depends, among other things, on the quality of the sorting by the consumer.
Extension of the blue bag collection in the SIDEC department
The extension of the collection will be effective in the municipalities of the SIDEC department from October 2019:
BEAUFORT - BECKERICH - BETTENDORF - BISSEN - BOULAIDE - BOURSCHEID - CLERVAUX - COLMAR-BERG - DIEKIRCH - ELL - ERPELDANGE-SUR-SURE - ESCH-SUR-SURE - ETTELBRUCK - FEULEN - FISCHBACH - GOESDORF - GROSBOUS - HEFFINGEN - HELPERKNAPP - KIISCHPELT - LAC DE LA HAUTE SURE - LAROCHETTE -LINTGEN - LORENTZWEILER - MERSCH - MERTZIG - NOMMERN - PARC HOSINGEN - PREIZERDAUL - PUTSCHEID - RAMBROUCH - REDANGE - REISDORF - SAEUL - SCHIEREN - TANDEL - TROISVIERGES - USELDANGE - VALLEE DE L'ERNZ - VIANDEN - VICHTEN - WAHL - WEISWAMPACH - WILTZ - WINCRANGE - WINSELER
What can be put in the blue bag in these municipalities?
Re-box stations and other recycling facilities
Deposit your yoghurt pots, plastic trays and plastic film into your Re-box collection station! Valorlux has set up "Re-box" collection stations in 15 supermarkets/hypermarkets in which consumers can deposit their yoghurt pots, plastic trays and plastic film.