Eco-friendly companies
Position yourself as an economically, environmentally and socially responsible company! Sort and recycle in your company and motivate your employees to support your efforts for a better environment! 
Why take part in sorting and recycling?
Civil obligation to recycle packaging waste
As an eco-responsible company, I have a responsibility and a recycling obligation to participate in the collections of my municipality and contribute to a better working environment.
Contributing to sustainable development
Recycling and recovering most of the waste by giving a second life to packaging and reducing the production of waste by avoiding unnecessary packaging.
Environmental responsibility
To be an economically, environmentally and socially responsible company and to set an example to our colleagues in good sorting and recycling practices.
Order my blue bags for my company for free
There are currently no products available for your account type.
Don't miss the collection of the blue bag!
New Valorlux Web App now available!
Add the Collection Calendar app to your phone! Your reminder to take out your blue bags and never miss the collection of your street!
Activate geolocation: the calendar according to your position
Activate notifications: receive a reminder the day before
Add the collection calendar to your agenda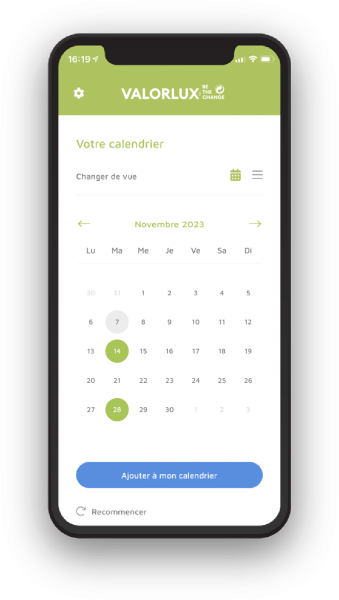 What can you put in the blue bag? The sorting guide
The quality of the recycling of packaging depends, among other things, on the quality of the sorting by the consumer.
Become an Eco bag partner
Does your company want to make reusable shopping bags available to its customers? Become an Eco bag partner and contact us