Member companies responsible for packaging
Position yourself as an economically, environmentally and socially responsible company and meet your legal obligations in as a responsible for packaging!
The responsible of the packing
A responsible for packing is "anyone who packed or ordered the packaging of products in Luxembourg in order to sell them or when placing them on the Luxembourg market, or if some products are placed on the Luxembourg market and have not been packed in Luxembourg, the importer of the packed products, with the exception of private individuals who consume the products themselves". The Law of 21 March 2017 with regard to packaging and packaging waste
Fill in my packaging declaration
Valbase Online enables you to submit your detailed packaging declaration online. You can use this portal to create your product data sheets, submit your report and view your invoices.
If you do not yet have an access to Valbase online Valbase Online, please contact us using the contact form.
Shop: Order my Valorlux bags for free
New Valorlux Web App
Now available!
Add the Collection Calendar app to your phone! Your reminder to take out your blue bags and never miss the collection date!
Activate geolocation: the calendar according to your position
Activate notifications: receive a reminder the day before
Add the collection calendar to your agenda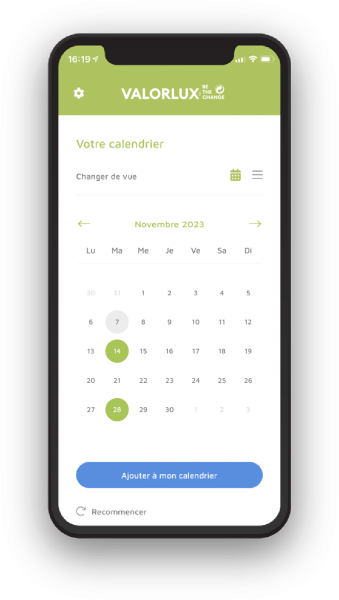 Become a member of Valorlux
If you join Valorlux you will be signing up to the global system for the collection, sorting and recycling of packaging in Luxembourg. In this way, member companies can comply with legal obligations more easily and at a lower cost than if they did so individually.
The Valorlux membership agreement concerns household and similar packaging. The agreement is concluded for an unspecified duration